Guest author, Mike Coffee, is the President and CEO of NetGen Communications (NetGen), a spin-off of Commetrex Corporation. NetGen produced the SmartATA® through their partnership with New Rock Technologies.
When is a fax not a fax? When it's an image file sent using a method or protocol other than T.30. That's according to the US 12th District court…paraphrasing, of course. Just to head off any misunderstanding, T.30 is the protocol used by the endpoint fax terminals; it's not a synonym for analog, PCM, or G.711 pass-through. It's the computer-to-computer protocol of real-time fax (yes, fax terminals are computers). T.38 is the protocol used by servers and relays to help a T.30 session succeed over a packet network, as shown below.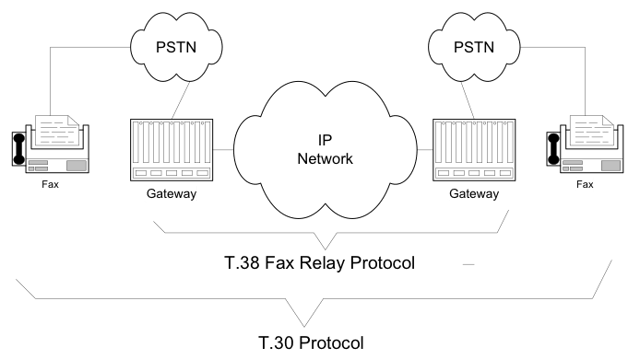 If you use a store-and-forward service, such as eFax or FaxBack HTTPS, it's not an end-to-end fax. Yes, you get the image file transferred, but there needs to be some kind of notification outside the image-file transfer to let you know whether the end-to-end session, which is comprised of two T.30 sessions, was successful. That feature is built into the T.30 protocol. (If you've ever sent a fax using two legacy terminals, you know that.)
The value of T38Fax and NetGen Communications' Smart ATA® is to obviate the need for store-and-forward as a way to overcome the inherent problems of FoIP. NetGen's Smart ATA® is a unique solution to the very real problem of finding a device that can handle late-arriving T.38 re-invites for Fax over IP (FoIP). And T38Fax's Power-T.38 service solves many other common FoIP problems. The combination of the Smart ATA® and T38Fax's fax-optimized SIP trunks enables superior, real-time Fax over IP.
T38Fax recently completed interoperability testing of NetGen's ATAs and officially certified them for use with their Power-T.38 service. Read the announcement for more information and for links to the configuration guides.