We are pleased to announce that we have successfully completed interoperability testing with NetGen's Smart ATAs. NetGen Communications, Inc. (NetGen), a spin-off of Commetrex Corporation, is a provider of ATAs with patented Smart FoIP, gateways, IP and wireless/IP PBXs, and IP phones. Their Smart ATAs are equipped with Smart FoIP patented technology that finally makes FoIP calls as reliable as PSTN fax calls. In addition to innovative fax capabilities, the Smart ATAs also provide quality voice performance and a full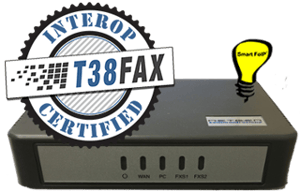 range of calling features.
NetGen found that serious problems with SIP negotiations for Fax over IP calls exist in the carrier-based networks. Since our SIP trunks were specifically optimized for FoIP, we are the only provider of reliable T.38 FoIP service. This makes us a natural fit with the Smart ATAs and their focus on reliable FoIP performance.
After rigorous testing, our interop ninjas found that the Smart ATA's excellent T.38 support, combined with our
Power-T.38 SIP trunks, provided the service, stability, and reliability we, and our customers, demand. We've gathered our screen shots and recommended best practices and assembled them into our Smart ATA knowledge base articles, which you can fine here:
The NetGen Smart ATAs, like most products we certify, are available for purchase from Telephony Depot.
Ready to put us to the test?
Take advantage of our 30-day free trial offer right now and you can be up and running in minutes. We offer instant activation via our online signup form. We even load your account with a $25 calling credit, which should more than cover all of the testing you'll want to do. What's more, we back those free trials up with unlimited free technical support so you'll be able to take our support team for a spin, too. Finally, we promise we will never activate your trial to a production account without you asking us to do so – we hate it when people do that to us too!