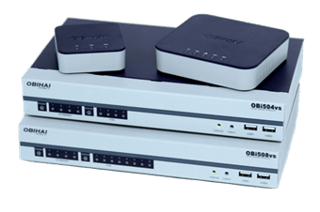 Obihai Technology is a leading manufacturer in the Voice over IP industry and maker of the best-selling OBi universal voice adapters and IP phones. Their analog telephone adapters (ATAs) and gateways can bridge mobile, fixed line, and Internet telephone services. They also support T.38, an essential feature to ensure reliable faxing over SIP trunks.
The OBi202, OBi302, OBi504vs, and OBi508vs are each equipped with multiple ports and are capable of connecting to more than one DID. If you are using one of these devices, you can take advantage of multi-DID routing, which can save you money and decrease the complexity of your configuration. You can consolidate a group of DIDs under a single SIP registration. This will give you the flexibility
to route DIDs using a single device and save costs by eliminating the need to pay for multiple SIP trunks.
These OBi universal VoIP telephone adapters are also on our certified device list. They can connect directly to our SIP trunks and are able to provide the service, stability, and reliability that we, and our customers, demand. We have prepared an Advanced Configuration guide to help you set up any of these multi-port Obihai ATAs/gateways for multi-DID routing. Click on the link below to visit our Knowledge Base article.
The Obihai family of ATAs/gateways, like most products we certify, are available for purchase from Telephony Depot.
Ready to put us to the test?
Great! Take advantage of our 30-day free trial offer right now and you can be up and running in minutes. We offer instant activation via our online signup form. We even load your account with a $25 calling credit, which should more than cover all of the testing you'll want to do. What's more, we back those free trials up with unlimited free technical support so you'll be able to take our support team for a spin, too. Finally, we promise we will never activate your trial to a production account without you asking us to do so – we hate it when people do that to us too!