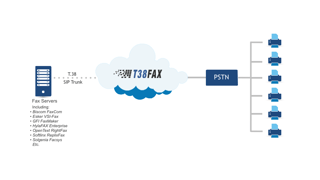 Do you remember the good old days, when things were simple? In the early days of fax, you used physical fax boards and servers, connected to real, tangible ISDN PRI T1 lines. Traditional phone lines were circuit-switched, which is a fancy way of saying they were optimized to deliver perfect audio every time, independent of conditions. Faxing was error free. The physical hardware worked well.
Then came progress. And three things happened to disrupt the status quo:
The physical fax server was replaced by virtual machines. This enabled consolidation of equipment and cost efficiencies by eliminating the need for multiple physical servers.
As virtual servers became mainstream, fax boards were replaced by software. And computers became powerful enough to run fax software on their own.
With the advent of the Internet came the demand for SIP trunking. This allowed users to take advantage of Voice over IP (VoIP) calling. The move to SIP was a migration from circuit-switched TDM phone lines to packet-switched VoIP service.
The convergence of these three factors created the perfect storm that turned the fax industry upside down. It forced users to adapt to, and take advantage of, improvements in technology. These days, the most common fax scenario is to have a virtual server running software-based drivers that do fax. These software-based fax modems speak T.38 so they can send faxes reliably over SIP lines. Customers are now demanding these virtual fax environments and expecting the T.38 to transmit reliably over SIP, with the same accuracy as they had before.
But unfortunately, there's still one part of the solution that's missing. As a fax software vendor, you have developed fax software to meet the demand for virtual environments. However, Fax over IP (FoIP) will not succeed without a SIP trunk provider that knows how to do T.38 successfully. You will have a hard time selling your software without a reliable SIP trunk vendor to recommend to your customers.
Luckily, T38Fax is uniquely poised to fill this role. We are the only SIP trunk provider whose sole purpose is to provide reliable T.38 FoIP call termination and origination. Our network was built from the ground up, by fax industry experts, specifically for fax server/software users. When you recommend our Power-T.38 service, packaged with your fax software, you are offering your customers a complete solution that will work far superior than the old method. And our SIP trunks can benefit not only fax software manufacturers, but also resellers and fax solutions providers. So say goodbye to nostalgia….and hello to reliable FoIP!
Ready to offer a complete FoIP solution to your customers? Click on the link below to contact us and learn how to become a certified interop partner.