If you're reading this blog, then you rely on FoIP in some way, and it's likely causing you headaches. Maybe you're a single ATA user trying to fax with your current carrier, but not having much luck. Perhaps you have a fax server that won't work consistently now that you've upgraded your phone network to VoIP. Or you're a service provider that can't seem to provide reliable FoIP to your customers and fax support is causing you nightmares.
If you fit into any of these categories, then your business depends on FoIP, but you can't get it to work reliably. As you upgrade your communications infrastructure to SIP, fax support can get left behind. Finding a carrier that guarantees (and supports!!) T.38 on your service is almost impossible. If you're a carrier or service provider, you know that successful T.38 requires significant investment in equipment and expertise and fax troubleshooting takes skill from seasoned fax experts.
Luckily, we can help! T38Fax provides reliable faxing and premium support over our SIP trunks, which were specifically designed for T.38. Whether you're a single fax user, a business with a fax server or IP-PBX, or a hosted VoIP or SIP trunk vendor, our Power-T.38 service can work for you. Find your use-case scenario below and see how.
Single Fax Machine + ATA
Reliable fax over SIP requires T.38 Fax Over IP, but most current service providers don't offer T.38 on their service. And if they do, they don't support it or guarantee it will work. Our Power-T.38 service enables reliable faxing with outstanding support. Fortunately, most fax-enabled devices can be connected directly to our service using a small piece of hardware such as an Analog Telephone Adapter (ATA) or multi-port SIP gateway. That's all you'll need to take advantage of our reliable service and premium support.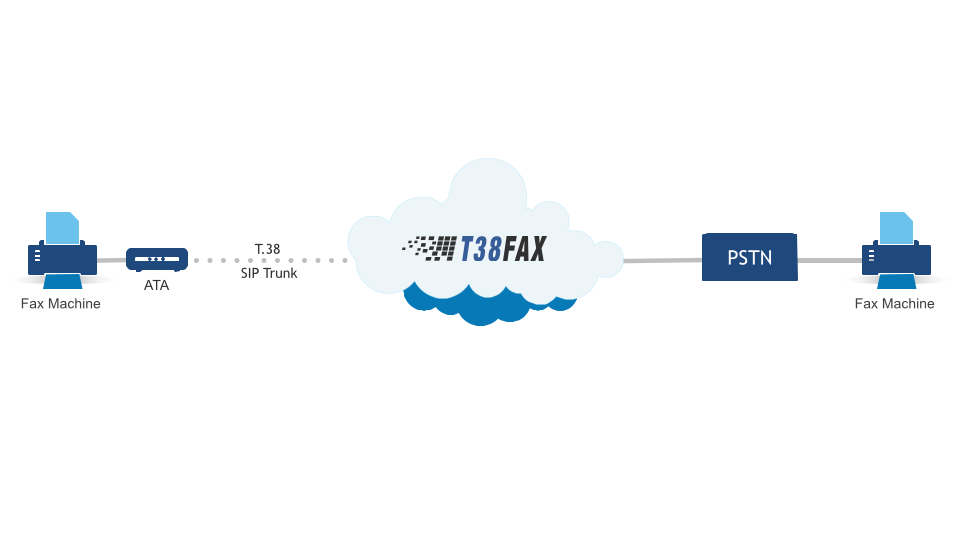 Fax Server
You will be hard-pressed to find a carrier that will officially certify their SIP service as 'fax-approved'. Our network was built from the ground up specifically for fax server software users. We partnered with Dialogic, the makers of the industry-leading T.38 stack embedded in the most popular fax server software, such as OpenText RightFax, and GFI FaxMaker. And we built a SIP service, with the sole purpose of connecting SR140-based T.38 Fax Over IP calls. Since then, we've expanded our compatibility list to include the most popular non-Dialogic fax server software products. That's why our Power T.38 service enables the most reliable faxing.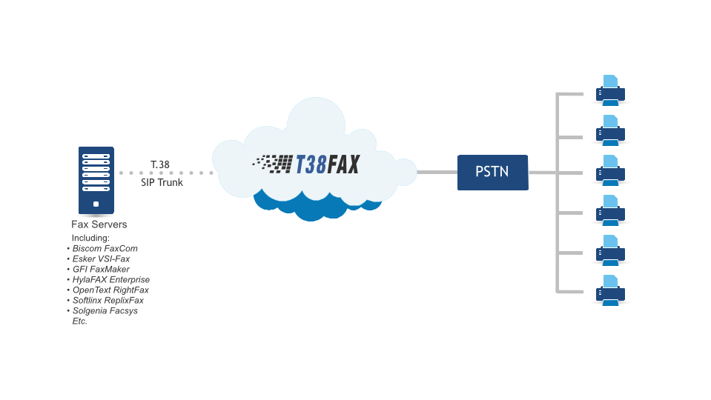 IP-based Phone System
Fax is a chronic annoyance for service providers seeking to offer Unified Communications (UC) services to their customers, or for businesses with their own IP-PBX. The challenge to implementing dependable faxing has been finding a SIP trunk vendor who offers reliable T.38. Our SIP trunks were designed by fax industry experts to solely offer T.38 Fax over IP call origination and termination. Whether you want to send faxes directly from your server or you want it to support your T.38 devices using T.38 pass-through, simply activate our Power-T.38 service, connect to our SIP trunks, and marvel at how well the faxing works.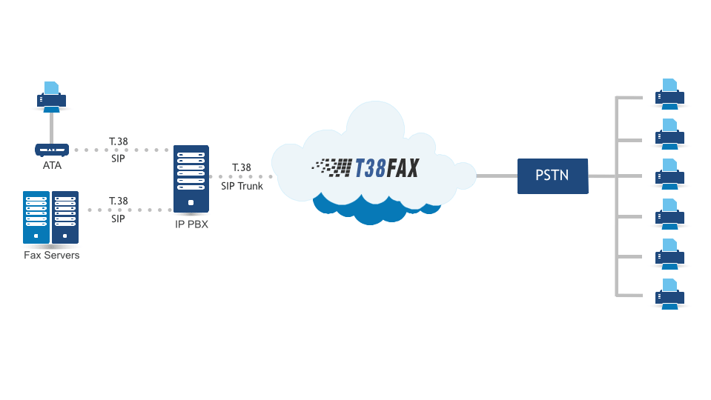 Service Provider Offload
Your main focus is on providing and supporting voice traffic. But this leaves many customers, who rely on fax, unsupported and frustrated. By taking advantage of our 'Service Provider T.38 Offload', the headache of supporting fax can be outsourced to us. As an ITSP, you can now divert your customers' fax traffic by using T38Fax as a preferred route for those fax calls. The benefits are compelling – you can claim formal T.38 support without the associated support burden. And you can be confident knowing that your customers' calls are being switched over a network that was specifically built for T.38.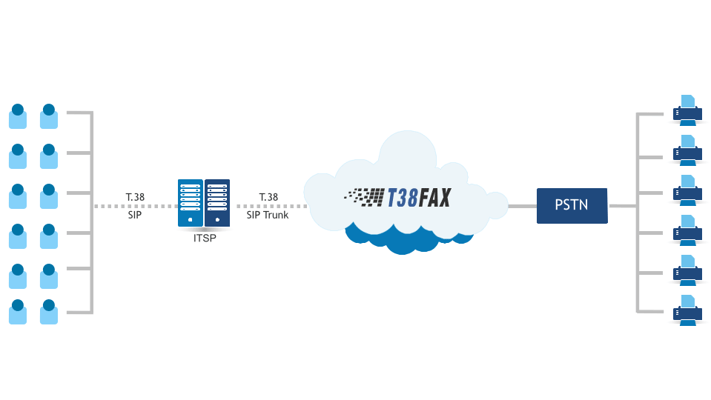 Ready to put us to the test?
Take advantage of our 30-day free trial offer right now and you can be up and running in minutes. We offer instant activation via our online signup form. We even load your account with a $25 calling credit, which should more than cover all of the testing you'll want to do. What's more, we back those free trials up with unlimited free technical support so you'll be able to take our support team for a spin, too. Finally, we promise we will never activate your trial to a production account without you asking us to do so – we hate it when people do that to us too!