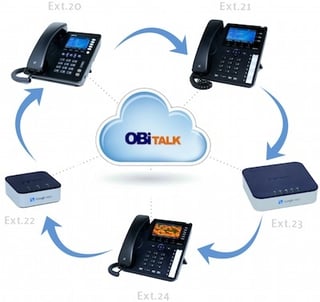 T38Fax is pleased to join Obihai's list of compatible service providers. Obihai Technology is a leading manufacturer in the Voice over IP endpoint industry and maker of the best-selling OBi universal voice adapters and IP phones. They developed OBiTALK, a web portal and OBi configuration utility which helps OBi users configure devices and access applications.
Within the OBiTALK portal, Obihai offers a list of compatible service providers, which allows users to easily configure an OBi phone adaptor or IP phone with their specific provider. Using the OBiTALK portal, OBi device owners can select their service provider from this list and enter their credentials. Once a selection is made, the device is automatically configured to work with the service provider, and calls can be made and received within minutes.
Service provider partners can also sign in to the OBiTALK ITSP Device Management Portal (DMP). This tool was designed for service providers, system integrators, and value-added resellers (VAR) to manage their OBi device deployments. It allows them to remotely and securely access and configure OBi devices from anywhere. When a service provider signs in to the OBiTALK portal, they can set up SIP registration and configure more advanced VoIP functions. This will eliminate the need to configure and re-package each device before sending it to the end user.
T38Fax is proud to be the only FoIP-specific service provider on the OBiTALK compatible service provider list. Our SIP trunks were designed by fax industry experts to solely offer T.38 Fax over IP call origination and termination. We have tested our integration in the OBiTALK portal and found that it offers an easy and straightforward way to
connect to our fax-optimized SIP trunks. Visit the OBiTALK portal to start managing your devices.
You can also visit our knowledge base to find configuration guides for Obihai devices.
The Obihai ATAs and gateways, like most products we certify, are available for purchase from Telephony Depot.
Ready to put us to the test?
Take advantage of our 30-day free trial offer right now and you can be up and running in minutes. We offer instant activation via our online signup form. We even load your account with a $25 calling credit, which should more than cover all of the testing you'll want to do. What's more, we back those free trials up with unlimited free technical support so you'll be able to take our support team for a spin, too. Finally, we promise we will never activate your trial to a production account without you asking us to do so – we hate it when people do that to us too!