If you've found this article there's a good chance you're a hosted VoIP or SIP trunk vendor whose customers are trying to send faxes, unsuccessfully, over your network. Perhaps your support team is demoralized by the constant barrage of cases being opened by customers who found out just a little too late that VoIP and fax don't play nicely together? Do you wish you could offer T.38 FoIP that actually worked, without the technical support burden? Do you have customers that are frustrated by your lack of fax support? Are you afraid those customers will take all of their business to a competitor who not only advertises support for T.38 but who can actually deliver the goods?
What if I said this could be you? And that after one of the easiest configuration changes you've ever experienced, you'd never have to worry about fax again. Sound too good to be true? It's not.
We've written previously about the stubborn persistence of fax. To everyone's dismay but ours, it looks like this technology is going to be around for the foreseeable future! We understand that your primary focus (and likely most of your expertise) is voice traffic. Fax probably represents a small portion of your business, but engineering your network to permit successful T.38 would require a significant investment in equipment and expertise. Even if you did get it mostly working, troubleshooting intermittent fax problems over SIP can be a nightmare. So you'd probably still have to offer fax as a 'best effort' kind of unsupported service that you can't stand behind.
Luckily, T38Fax has the solution! ITSP's can now outsource T.38 fax support by taking advantage of our 'Service Provider T.38 Offload'. You can divert customers' fax traffic by using T38Fax as a preferred route for those fax calls. It's easy - simply establish a SIP trunk to T38Fax, route the outgoing fax traffic via that trunk, port the fax DIDs and toll-free numbers to us, and we take care of the rest.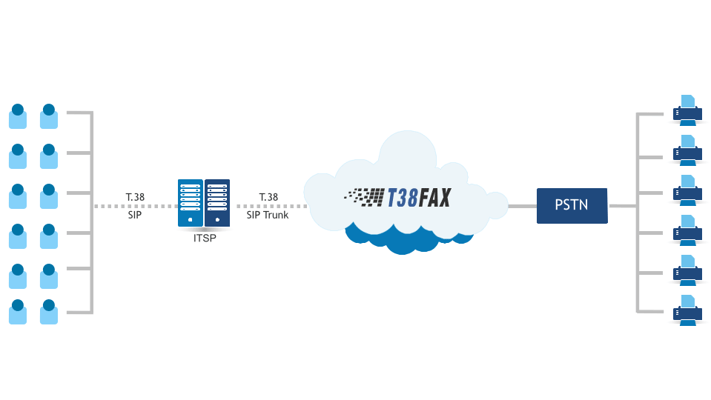 How does T38Fax do it better?
Consistent T.38. Consistency is the key to reliable T.38 interoperation. When offloading fax traffic to us, your customers' equipment will only interact with our T.38 media gateways, ensuring predictable, high quality, reliable faxing.
ECM (Error Correction). Error Correction Mode (ECM) is a fax protocol feature that retransmits any page data that is distorted or lost due to audio problems. It's a fundamental part of the facsimile protocol and ensures that the fax will be an exact copy of the image on the other side. Most carriers disable ECM due to the mistaken belief that it's harmful to T.38 fax success rates. Our T.38 implementation includes ECM, and we make sure our customers are configured to use it.
Premium Fax Support. In the unlikely event your customers have a problem, we offer unlimited support from our fax industry experts. We use science, not superstition, to solve problems.
The benefits of offloading your fax traffic to T38Fax are compelling – you can claim formal T.38 support without the associated support burden. And you can be confident knowing that your customers' calls are being switched over a network that was specifically built for T.38.
We even offer wholesale pricing to service providers who can meet certain volume commitments. Ask one of our sales reps about our Service Provider T.38 offload plans today.
Ready to put us to the test?
Take advantage of our 30-day free trial offer and you can be up and running in minutes. We offer instant activation via our online signup form. We even load your account with a $25 calling credit, which should more than cover all of the testing you'll want to do. What's more, we back those free trials up with unlimited free technical support so you'll be able to take our support team for a spin, too. Finally, we promise we will never activate your trial to a production account without you asking us to do so – we hate it when people do that to us too!