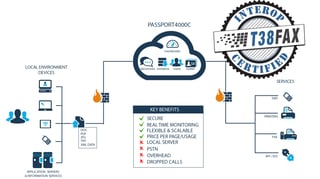 We are pleased to announce that we have successfully completed interoperability testing with Lane Communications' Passport4000 fax system component. Lane Telecommunications is a dedicated provider of integrated messaging solutions within Healthcare, Banking, and Commercial markets. It operates globally, with offices located in the USA, Singapore, and the UK. Lane is recognized as a leader in messaging and fax integration across financial, healthcare, and government bodies. It has a strong track record in implementing systems across 50 countries, providing professional services in all time zones. Passport4000 is at the heart of the Lane Telecommunications service offering and is its core messaging system.
The Passport4000 offers integrated fax and messaging services accessed over the internet. Its fax system component includes Dialogic's SR140 SIP stack, which supports T.38. But the challenge to offering dependable Fax over IP has been finding a reliable SIP trunk vendor. Dialogic was our first officially certified partner, and remains one of our most important partners to this day. Our SIP trunks were designed by fax industry experts to only offer T.38 Fax over IP call origination and termination. By including Dialogic's industry-leading SR140 T.38 stack in their software and certifying Passport4000 with our Power-T.38 service, Lane Telecommunications
has ensured their customers can experience predictable, reliable, and high-quality faxing.
The Passport4000 messaging system has been thoroughly tested by our interop ninjas and works seamlessly with our Power-T.38 Fax over IP service. Visit our knowledge base article for information on how to configure Passport4000's SR140 driver to work with our service.
For more information about our interoperability testing with Lane Communications, read our joint press release.
Ready to put us to the test?
Take advantage of our 30-day free trial offer right now and you can be up and running in minutes. We offer instant activation via our online signup form. We even load your account with a $25 calling credit, which should more than cover all of the testing you'll want to do. What's more, we back those free trials up with unlimited free technical support so you'll be able to take our support team for a spin, too. Finally, we promise we will never activate your trial to a production account without you asking us to do so – we hate it when people do that to us too!