At the core of our Power-T.38 service is a robust, reliable, standards-based and feature-rich T.38 Fax Over IP (FoIP) implementation that ensures a uniform and consistently high level of successful fax completion. We are fax industry veterans, and while other SIP providers might shrug and say "Oh well, it's fax, what do you expect?", we hold ourselves to exceptionally high standards when it comes to acceptable error rates. Naturally, we demand the same quality from partners who wish to have their technology certified for interoperation with our service.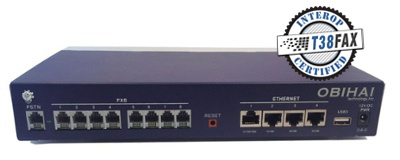 We are pleased to announce that we have successfully completed interoperability testing with Obihai's OBi5vs Series Universal VoIP Adapters. The OBi504 and OBi508 were each subjected to rigorous torture testing in our labs, and performed flawlessly. We found them to provide the stability, service, and reliability that our customers have come to expect.
The OBi5vs series adapters offer a cost-effective yet flexible option for any sized business looking to integrate legacy analog lines into a VoIP network. They may be connected directly to Power-T.38 of course, but the good news for businesses or service providers using premise-based open-standard platforms (Asterisk, FreePBX, etc) is that they also work well in T.38 pass-thru mode. In other words, they're a great way to connect analog fax machines to a VoIP network without compromising on the fax reliability (are you listening, service providers?) Interested in purchasing these or other Obihai devices? Vist our Telephony Depot website to check pricing and availability on Obihai devices.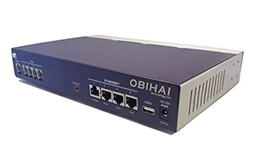 Pictured Left: OBi504vs, Pictured Right: OBi508vs
The Obi5vs adapters are the first Obihai product we've certified as interoperable, and we're excited about this product line. Obihai's engineering and leadership team have a long and successful track record in consumer and business-grade voice and video communication solutions, they have been very responsive to our engineering team, and several other Obihai products are already undergoing testing in our lab. We've created an Obihai Central page for you to learn more about Obihai's VoIP adapters and their interoperability with our T38Fax.com service. As more Obihai devices achieve certification, we will add them to that page and provide you with detailed information on the devices themselves & how to configure them to work with your T38Fax.com service! You can also find our complete configuration guide for the Obi504vs & Obi508vs systems below.
| | |
| --- | --- |
| | |
As always, should you need assistance configuring your device(s) to work with our T38Fax.com service, feel free to open a ticket and our engineering team will be sure to assist you.
If you're interested in learning more about our certification process, or if you're a manufacturer who may be interested in having your devices certified, please visit our Online Inquiry form.
Full technical information on the OBi5vs series VoIP adapters can be found on the manufacturers page. Interested in trying out our Power-T.38 service? We invite you to evaluate our service with a no-obligation, 30 day trial and see for yourself how our high quality fax-optimized network, professional support and competitive prices make an unbeatable combination.