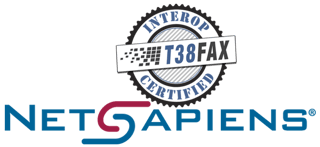 We are pleased to announce that we have successfully completed interoperability testing with NetSapiens. NetSapiens provides advanced VoIP solutions to the industry's leading service providers. NetSapiens' SnapSolution allows service providers to offer more value to their customers and increase ROI. Its solutions include hosted PBX/Web centrex, unified communications, SIP trunking, security and cost control, user portals, device provisioning, contact center solutions, geo-diversity and high availability, API, and more.
NetSapiens engineers have worked closely with T38Fax to jointly document a configuration that will permit service providers to offload their T.38 Fax over IP traffic to us. This will allow the service provider to claim T.38 support, and it will be completely transparent to their customers. To learn more, see our knowledge base article.
Both T38Fax and NetSapiens will be at ITEXPO in Ft. Lauderdale, February 8-10. If you're in the area, feel free to come and discuss our joint solution. We are even offering free Expo Plus Passes! For more information on NetSapiens and their VoIP solutions, visit their website.
Don't have a T38Fax account?
That's ok. We offer a 30-day free trial that includes a $25 credit to your account and one free DID to allow you to receive faxes. Click on the link below if you'd like to sign up for our Free Trial and take advantage of this offer!