We provide a robust, standards-based and feature-rich T.38 Fax over IP (FoIP) solution that ensures a uniform and consistently high level of successful fax completion over fax-optimized SIP trunks. In a nutshell, we're serious about fax. Certification for interoperability with our Power-T.38 service is something we take just as seriously, demanding the same quality and reliability from our partners who wish to have their systems certified for interoperation with our service.

We are pleased to announce that we have successfully completed interoperability testing with MultiTech's FaxFinder IP fax servers. The FaxFinder IP fax servers were found to provide the stability and reliability that our customers have come to expect, while also providing a rich feature set.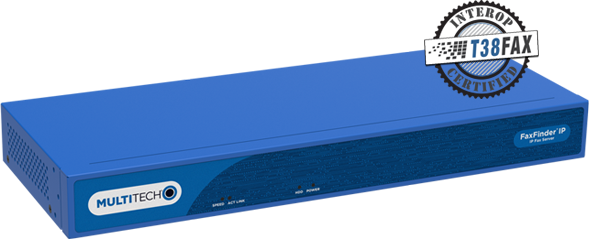 The FaxFinder IP fax server is a network-attached device that replaces legacy paper-based fax machines and allows users to send and receive faxes electronically. All inbound faxes can be forwarded to the FaxFinder IP server where they can be routed to a user's email inbox, a network share, or a network printer. Outbound faxes can be submitted via three methods, MultiTech's print to fax client (for Windows and Mac 10.7), a web browser, or any existing email client.

FaxFinder IP fax servers combine quality hardware and software designed to integrate with existing and new telephony systems and IP-based networks, providing reduced costs while enhancing productivity by sending and receiving faxes using existing email and network resources. When connected to a T38fax.com SIP trunk, the FaxFinder IP server functions as a network fax server with two-way fax service. Multiple extension numbers (DID numbers) can be dedicated to incoming fax traffic which is routed to FaxFinder IP. FaxFinder IP converts the incoming faxes into graphic files that can be sent as email attachments, to a network share, to a printer, or to trash. Because faxes can be delivered as email, the fax recipient can be at any reachable email address. For example, a sales person can receive faxes while traveling by using a regular company fax number and picking up the email messages remotely. Each fax-dedicated extension number can be associated with a particular email address.

We are pleased to add MultiTech's FaxFinder IP servers to our ever-growing list of certified devices. MultiTech has also published an official configuration guide that will help setup and configure your FaxFinder IP fax server with our Power-T.38 FoIP service. As always, our engineering team is always willing to help you through the configuration and deployment process. Should you need our help, please open a ticket in your T38Fax.com account portal.

The configuration guide can be downloaded directly from our compatibility certification page for the FaxFinder IP fax server by MultiTech. You can find that page by clicking the link below:
As always, should you need assistance configuring your device(s) to work with our T38Fax.com service, feel free to open a ticket and our engineering team will be sure to assist you.
If you're interested in learning more about our certification process, or if you're a manufacturer who may be interested in having your devices certified, please visit our Online Inquiry form.
Full technical information on the MultiTech FaxFinder IP fax servers can be found on the manufacturer's page. Interested in trying out our Power-T.38 service? We invite you to evaluate our service with a no-obligation, 30 day trial and see for yourself how our high quality fax-optimized network, professional support and competitive prices make an unbeatable combination.