We are pleased to announce that we have successfully completed interoperability testing with Media5's Mediatrix 4100 series adaptors and gateways. Media5 is a global supplier of multimedia communication solutions, offering a complete set of SIP-based products and technologies. They deliver IP Communications solutions to customers in over 75 countries throughout the world. Their family of products includes highly-capable customer premise equipment, such as IP gateways, session border controllers, virtual machine platforms, the suite of mobile solutions for media and collaboration tools, and the M5T family of secure SIP-based developer solutions.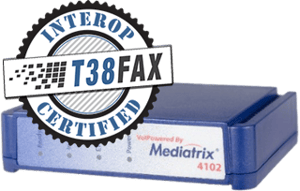 Media5 offers a family of ATAs/gateways that allows customers to connect to VoIP networks. The Mediatrix 4100 series VoIP adaptors, with up to 24 FXS ports, interconnect analog telephones, faxes, and modems into SIP based systems. These adaptors support T.38, and they offer clear channel fax and modem pass-through capabilities. So they can connect to us directly, or they can talk to us through any SIP infrastructure that knows how to do T.38 pass-thru (Asterisk, FreePBX, OpenSIPS, Kamailio, etc.).
The Mediatrix 4100 series ATAs have been thoroughly tested by our interop ninjas and work seamlessly with our
Power-T.38 Fax over IP service. We've gathered our screen shots and recommended best practices and assembled them into our Mediatrix 4100 Series knowledge base article, which you can find here:
The Mediatrix ATAs and gateways, like most products we certify, are available for purchase from Telephony Depot.
Ready to put us to the test?
Take advantage of our 30-day free trial offer right now and you can be up and running in minutes. We offer instant activation via our online signup form. We even load your account with a $25 calling credit, which should more than cover all of the testing you'll want to do. What's more, we back those free trials up with unlimited free technical support so you'll be able to take our support team for a spin, too. Finally, we promise we will never activate your trial to a production account without you asking us to do so – we hate it when people do that to us too!