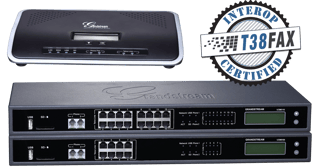 We are pleased to announce that we have successfully completed interoperability testing with another line of Grandstream's products, its UCM series IP PBXs. Grandstream Networks, Inc. has offered SIP Unified Communications solutions since 2002, and its products have been recognized for their quality, reliability, and innovation. Specifically, the Grandstream IP PBXs allow businesses to unify multiple communication technologies, such as voice, video calling, video conferencing, video surveillance, data tools, mobility options and facility access management onto one common network that can be managed and/or accessed remotely.
Grandstream's UCM series IP PBXs include a suite of devices that can anchor a business's communications network solution and support from 500 to 2000 users. The Grandstream UCM6100 series and UCM6200 series IP PBXs are similar, but the UCM6200 series can support more users (up to 800) and more concurrent calls (up to 100), The Grandstream UCM6510 IP PBX supports E1, T1, and J1 networks and offers scalability by supporting up to 2000 users. These secure and reliable devices deliver unified communications features without any licensing fees, costs-per-feature, or recurring fees.
Like other Grandstream products, the IP PBXs include extensive support for T.38. That means they can connect directly to our fax-optimized SIP trunks using our Power-T.38 service. Or these products can talk to us through
any SIP infrastructure that knows how to do T.38 pass-thru (Asterisk, FreePBX, OpenSIPS, Kamailio, etc.).
The Grandstream UCM6100 series, UCM6200 series, and UCM6510 IP PBXs have been thoroughly tested by our interop ninjas and work seamlessly with our Power-T.38 Fax over IP service. We've gathered our screen shots and recommended best practices and assembled them into our Grandstream UCM Series IP PBX Knowledge Base Articles, which you can find here:
Ready to put us to the test?
Take advantage of our 30-day free trial offer right now and you can be up and running in minutes. We offer instant activation via our online signup form. We even load your account with a $25 calling credit, which should more than cover all of the testing you'll want to do. What's more, we back those free trials up with unlimited free technical support so you'll be able to take our support team for a spin, too. Finally, we promise we will never activate your trial to a production account without you asking us to do so – we hate it when people do that to us too!