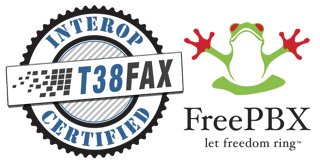 We are pleased to announce that we have successfully completed interoperability testing with FreePBX, a product of Sangoma Technologies. FreePBX is a web-based open source GUI (graphical user interface) that controls and manages Asterisk (PBX), an open source communication server. It was written by a community of developers and contributors who work to make phone system software functional and easy to use. With over 1 million production systems in over 200 countries, FreePBX is the most widely deployed open source PBX platform in use across the world.
Fax is a chronic annoyance for FreePBX operators seeking to offer Unified Communications (UC) services to their customers, or for IT administrators looking to base their company's phone system on FreePBX. It's a shame, too, because the science behind T.38 is very sound and FreePBX's T.38 support is actually very good! The real challenge with T.38 is that it has been, until now, next to impossible to find a SIP trunk vendor who offers reliable T.38. Our Power-T.38 SIP trunks are the solution to this problem. Simply activate service with us, connect our SIP trunk to your FreePBX server, and marvel at how well the faxing works.
Our interop ninjas have been hard at work interop testing FreePBX. We're very open-source friendly here and so the team has a lot of experience with Asterisk-based distributions and web GUIs. We've gathered our screen shots and recommended best practice and assembled them into our FreePBX Knowledge Base Article, which you can get here:
It really is just that easy. Simply use Power-T.38 as your underlying carrier for fax calls, and we'll take care of the T.38 for you. Just imagine getting rid of those headaches!
Ready to put us to the test? Great! Take advantage of our 30-day free trial offer right now and you can be up and running in minutes. We offer instant activation via our online signup form. We even load your account with a $25 calling credit, which should more than cover all of the testing you'll want to do. What's more, we back those free trials up with unlimited free technical support so you'll be able to take our support team for a spin, too. Finally, we promise we will never activate your trial to a production account without you asking us to do so - we hate it when people do that to us too!