We are pleased to announce that we have successfully completed interoperability testing with Fax Voip T38 Fax & Voice software. Fax Voip is a Windows based software that provides a full-featured SIP/H.323 softphone for Voice over IP (VoIP) calling. It also provides full functionality for sending & receiving facsimile transmissions via T.38 & G.711. From the perspective of your fax or voice application, it acts as a Voice/Fax modem, installing Virtual COM Ports and Virtual Fax Voip 14.4k TAPI Voice-Fax modems on your system. You can configure your Fax & Voice program to operate with both the Fax Voip COM ports or virtual modems. From the perspective of your VoIP network, it provides a fully featured SIP/H.323 client with support for faxing over VoIP trunks, both in G.711 and T.38 (and more importantly, with Error Correction Mode - ECM!).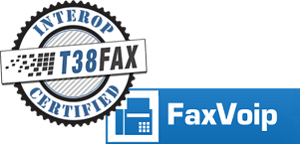 Fax Voip's software passed our rigorous testing requirements and made it to our Certified Device List. We've included a simple configuration guide on our website to help you get up and running.
If you're having trouble configuring your Fax Voip T38 Fax & Voice software, please open a ticket and one of our Engineers will assist you with your configuration as soon as possible.
If you don't have an account with us, that's ok. We offer a 30-day free trial that includes a free $25 credit to your account and one free DID to allow you to receive faxes. Click on the link below if you'd like to sign up for our Free Trial and take advantage of this great offer!
More information on Fax VOIP software and their products can be found on their website.