T38Fax is pleased to announce that we have successfully completed interop testing with the Cisco SPA112 2-Port Phone Adapter and the Cisco SPA122 ATA with Router. We're especially excited about this certification since many of the service providers we speak to on a daily basis have already standardized on this platform and have large preexisting deployments of these devices in the field. The device's T.38 support is excellent, but like all T.38 devices they're only as good as the service they're connected to. That's where we come in (see below for links to our knowledge base articles)!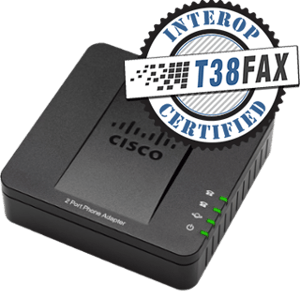 Cisco itself doesn't need much of an introduction, of course. These ATA's are part of Cisco's line of best-in-class small business voice gateways and ATAs, designed to support office or residential communication needs. The undrlying technology has a strong pedigree in the SIP industry, having started out in the early days as Sipura Technology, which was wisely acquired by Cisco and branded as Linksys, then eventually promoted to the official Cisco brand. They are compatible with all industry voice and data standards and common telephone features such as caller ID, call waiting, and voice mail. Fortunately, the Cisco adapters also have a very mature T.38 stack, an essential feature to ensure reliable faxing over SIP trunks.
Most VoIP service providers struggle to provide a stable, reliable solution for fax. Our Power-T.38 SIP trunks, combined with Cisco's ATAs are a powerful solution to this problem, and in our experience result in happy customers, high adoption rate and low support load. As with most SIP ATAs/gateways, they can connect to us directly but they can also talk to us through any SIP service provider's own equipment (Asterisk, FreePBX, OpenSIPS, Kamailio, etc.) by using T.38 pass-thru.
The Cisco SPA112 2-Port Phone Adapter and the Cisco SPA122 ATA with Router have been thoroughly tested by our interop ninjas and work seamlessly with our Power-T.38 Fax over IP service. We found the Cisco ATAs to provide the service, stability, and reliability that we demand, and our customers have come to expect.
We've gathered our screen shots and recommended best practices and assembled them into our Cisco SPA112 and Cisco SPA122 Knowledge Base Articles, which you can find here:
(The SPA112 and 122, like most of the ATAs we certify, are available for purchase from Telephony Depot. )
Ready to put us to the test?
Great! Take advantage of our 30-day free trial offer right now and you can be up and running in minutes. We offer instant activation via our online signup form. We even load your account with a $25 calling credit, which should more than cover all of the testing you'll want to do. What's more, we back those free trials up with unlimited free technical support so you'll be able to take our support team for a spin, too. Finally, we promise we will never activate your trial to a production account without you asking us to do so – we hate it when people do that to us too!