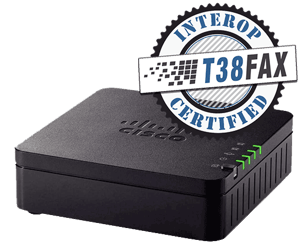 Cisco has released the next generation replacement of the venerable SPA112 ATA, one of the company's most widely deployed ATAs which was declared EOL (End of Life) in the summer of 2020. These new ATAs are part of Cisco's line of best-in-class small business voice gateways and ATAs, designed to support office or residential communication needs. The underlying technology has a strong pedigree in the SIP industry, having started out in the early days as Sipura Technology, which was wisely acquired by Cisco and branded as Linksys, then eventually promoted to the official Cisco brand.
The ATA191-MPP and ATA 192-MPP bring analog devices to the IP world by
allowing existing devices to function as IP devices in your network. Both models feature two RJ11 ports that work with any standard analog phone device, in addition to an RJ45 port for Ethernet (ATA 192 includes an extra port), and are designed to connect analog fax machines to T.38. Each port can be used simultaneously and supports voice calls or fax sessions. The ATA 192 includes an integrated high-performance router to extend local network connectivity.
The Cisco ATA191-MPP and ATA 192-MPP models build upon the success of the SPA112/122, offering updates to security of both media and signaling and a dedicated Problem Reporting Tool or PRT button that improves serviceability for log collection and problem reporting. Other new features include the adoption of image authentication, secure boot, and secure shell (SSH). The user-friendly design is both easy-to-install and compact. Ideal for limited office space, the ATA 191 and ATA 192 can fit on a desktop or be wall mounted. (see our how-to article featuring screenshots for setting up the device).
Customers will also appreciate the greater cost-effectiveness of these long-awaited devices, as the ATA191-MPP and ATA 192-MPP supports all/most telephony voice devices, such as overhead paging adapters and answering machines. This functionality allows users to extend their investments in existing analog fax infrastructure while allowing for a smooth transition to full-fledged T.38 service.
You must use the Multiplatform version of these ATAs to connect to our service. Cisco ATA191-MPP and ATA 192-MPP have been thoroughly tested by our support engineers and have been proven to work seamlessly with our Power-T.38 service. We've gathered screen shots and recommended best practices and assembled them into our Cisco ATA191-MPP and ATA 192-MPP Knowledge Base Articles, which you can find here:
Ready to put us to the test?
Take advantage of our 30-day free trial offer right now and you can be up and running in minutes. We offer instant activation via our online signup form. We even load your account with a $25 calling credit, which should more than cover all of the testing you'll want to do. What's more, we back those free trials up with unlimited free technical support so you'll be able to take our support team for a spin, too. Finally, we promise we will never activate your trial to a production account without you asking us to do so – we hate it when people do that to us too!