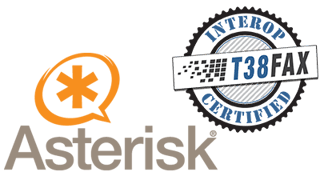 We are pleased to announce that we have successfully completed interoperability testing with Asterisk. Asterisk is a free and open source framework for building communications applications, like business phone systems, call distributors, VoIP gateways, and conference bridges. As open source software, it has been enhanced and tested by a global community of thousands. It is sponsored by Digium, and it is used by almost the entire Fortune 1000 list of customers.
Some of our largest service providers have built their businesses on Asterisk and related open source telephony tools. But the challenge to offering dependable faxing has been finding a SIP trunk vendor who offers reliable T.38. Asterisk is known to work very well with our Power-T.38 products. Simply activate service with us, connect to our SIP trunk, and marvel at how well the faxing works.
Our interop ninjas have been hard at work interop testing Asterisk. Their software has passed our rigorous testing requirements and made it to our Approved List. We've gathered our screen shots and recommended best practices and assembled them into our Asterisk knowledge base article, which you can find here:
It really is just that easy. Simply use Power-T.38 as your underlying carrier for fax calls, and we'll take care of the T.38 for you. Just imagine getting rid of those headaches!
Ready to put this to the test?

Great! Take advantage of our 30-day free trial that includes a $25 calling credit, which should more than cover all of the testing you'll want to do. We offer instant activation via our online sign up form. What's more, we back those free trials up with unlimited free technical support so you'll be able to take our support team for a spin, too. Finally, we promise we will never activate your trial to a production account without you asking us to do so - we hate it when people do that to us, too! So click on the link below to take advantage of this great offer!