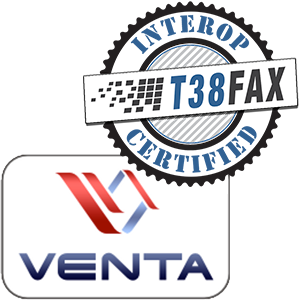 We are pleased to announce that we have successfully completed interoperability testing with VentaFax, the full-featured computer fax and answering machine software. VentaFax comes in both a home and business version, each of which is capable of sending and receiving fax and voice messages via a fax modem or over the Internet (FoIP).
VentaFax supports 32- and 64-bit MS Windows operating systems, comes with an easy-to-use interface and supports Caller ID (if available). The software allows users to retrieve fax and voice messages from any touchtone phone, record conversations with a single click, and can even forward faxes as email attachments.
VentaFax supports T.38 and has been thoroughly tested and proven to work with our Power-T.38 service. Simply activate with us, connect our SIP trunks to your VentaFax software, and see how well the faxing works! We've even put together a Knowledge Base Article, including screen shots and best practices, to help you get up and running quickly and easily. You can find the VentaFax article here:
Ready to put us to the test?
Take advantage of our 30-day free trial offer right now and you can be up and running in minutes. We offer instant activation via our online signup form. We even load your account with a $25 calling credit, which should more than cover all of the testing you'll want to do. What's more, we back those free trials up with unlimited free technical support so you'll be able to take our support team for a spin, too. Finally, we promise we will never activate your trial to a production account without you asking us to do so – we hate it when people do that to us too!